Impact Stories
A Forest Guard's Point of View
Posted on March 11, 2015
Project Title: Mt. Matutum Integrated Conservation and Development (MICADEV) Program
Year: 1995-2006
Grant Type: Site-focused
Site: Polomolok, Tupi, Tampakan (South Cotabato); Malungon (Sarangani)
Proponent: Mahintana Foundation, Inc.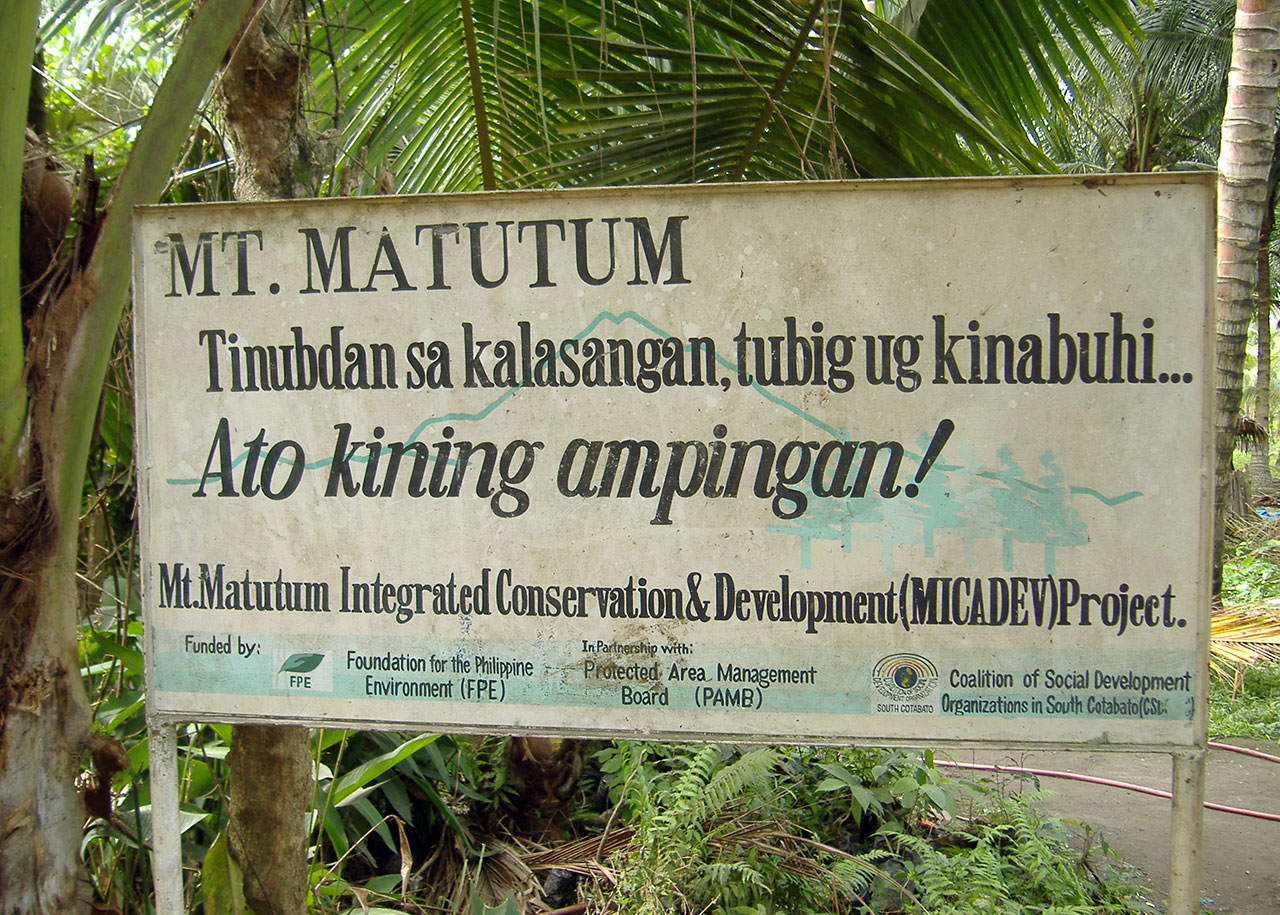 The MICADEV program is a multi-sectoral effort involving NGOs, POs, government agencies, and businesses, among others. (FPE)
Jimmy Buan of the B'laan tribe, treasurer of the Matutum B'laan Farmers' Association (MBF) and a forest guard or Deputized Environment and Natural Resources Officer (DENRO) of Purok 8, recounts:
"Before the entry of FPE we practiced kaingin, believing that the soil would regenerate itself after we abandoned the cultivated area, Residents here also practiced illegal logging, having been enticed by money from local financiers. We did not know yet the effects and impact on our environment when there would be no more trees.
"Since FPE came in 1997, I have observed changes in practices, i.e., reduced kaingin (only a few are still doing it now), as well as [reduced] illegal logging. In 1994, there was a logging boom. We sold logs to local politicians in General Santos City through a buyer (capitalist/financier) at low prices and they sold the logs in General Santos. As a DENRO (forest guard), I was able to confiscate lumber and turn these over to the DENR.This was in 2003 and since then, illegal logging has been stopped.
"FPE's inputs became our eye-opener, that if we were to continue our kaingin practice it would not be sustainable for our children. We now have a permanent farm area as a result of the zoning of Mt. Matutum, and we also help protect the forest. The population is increasing. If the government policies are not enforced properly, then all our trees will be lost and our children will have no more space to farm in the future. In-migration must be reduced for I see that we have nowhere to go. The issuance of our certificate of ancestral domain claim (CADC) is in process.
"We now grow organic vegetables, something we learned from our seminars and exposure trips. I joined the trip to a mall in General Santos City (Gen San) and there we learned techniques for packaging vegetables. We don't have enough volume of vegetables to deliver to the mall. Instead, we canvass stalls in Gen San where we can sell our vegetables. In this manner, we are on our own and are not tied to local buyers who used to purchase our vegetables at very low prices. We use mobile phones to canvass vegetable prices in Gen San; we monitor the prices. We have a regular schedule of delivery to Gen San once or twice a week.
"We sell our Alamid coffee at PhP 800 per kilogram directly to Serenity Corporation. We are assured of our coffee market now and at the same time, our coffee is an environment-friendly crop. We use animal manure for fertilizer.
"Our PO, MBFA, provides loans to members. Though other members failed to pay their dues, we believe that the initial capital has been recovered and it keeps on rolling for now. We have no other project at the moment since the FPE funding is over but we continue to monitor and evaluate our forest protection and conservation activities monthly, and we continue to plant trees.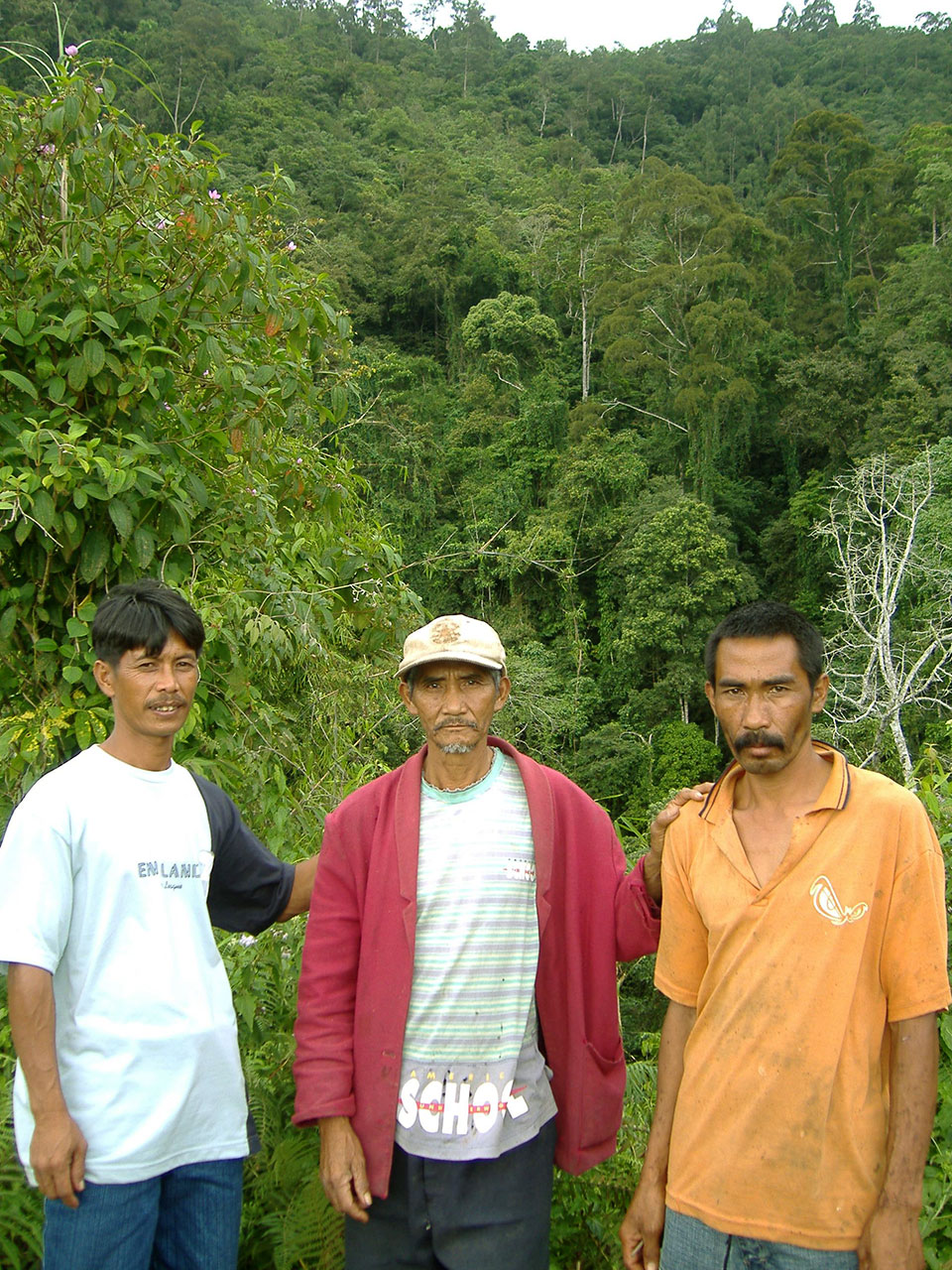 Building the POs' capabilities in project management is an important component of the program to help carry on the gains of MICADEV on a wider scale. (FPE)
"As a forest guard since 1998, I attended the FPE seminar about forest laws organized by the Mahintana Foundation. That was the start of my awareness and I volunteered to become a DENRO simply because I was born here. I saw environmental disasters on television. I observed that some DENR personnel were behind the entry of illegal loggers. I can attest to this because in 1997, someone informed the DENR by mobile phone of an ongoing cutting incident, and the DENR personnel informed the (cutting) operator through text that someone from the village told him about the ongoing cutting activity. The DENR just dismissed the personnel; it is their practice to change staff in cases like this.
"The DENROs meet on the last Tuesday of every month. We have benefits like PhilHealth, insurance, and scholarship grants. The LGU provides an honorarium of PhP 500 per month and an additional amount for gasoline form y motorcycle, which started only last year (2007). Mahintana Foundation provides PhP 200 for our transportation during meetings.
"Our PO chairman was shot in his house, having been known as an advocate for the protection of Mt. Matutum landscape protection. We in the village and tribe have become more vigilant, stronger in our commitment to continue our cause and this has strengthened my conviction to go on with my chosen role."
(Contributed by Trinidad Malaga and Ramon Duran)
* * * * *
Adapted from "Envisioning a Premier Watershed" in Manipon AJN and Mesina SR. 2009. "Communities, Conservation, and the Filipino Environmentalist." Quezon City, Philippines: Foundation for the Philippine Environment.