Eastern Samar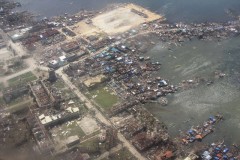 Address: Eastern Samar
Description: One of FPE's long-standing priority sites, conservation efforts in Guiuan suffered a massive setback in late 2013 when Typhoon Yolanda ravaged the high-biodiversity coastal town. Prior to this calamity, however, measures have been put in place to counter-act the destructive impacts of unregulated infrastructural activities, blast- and cyanide-fishing, and human encroachment on coastal resource-dependent livelihood.
Status: On-going
Site Profile Summary
Ecosystem Types

Coastal and Marine

Protection Status

Natural Park (Presidential Proclamation No. 291)

Area

33,492 hectares

Biogeographic Features

It is a conservation priority site for its reef fishes, corals, mollusks, whale sharks, elasmobranchs and turtles.

The gulf's rich biodiversity is slowly vanishing; the ecological conditions of its coastal waters ranging from fair to poor.

For the past 10 years, the Leyte Gulf's coral cover and fish stocks have been shrinking.

Unregulated infrastructure activities lead to soil run-off and sedimentation

Flora

Fauna

Livelihood Resources

Other Matters of Significance

Apart from a small settled community of Ati (Negritos) in Barangay Cogon in the municipality of Malay, there are no indigenous peoples' groups in the peninsula.